Holosun Dot Sight ELITE HE508T-GR-X2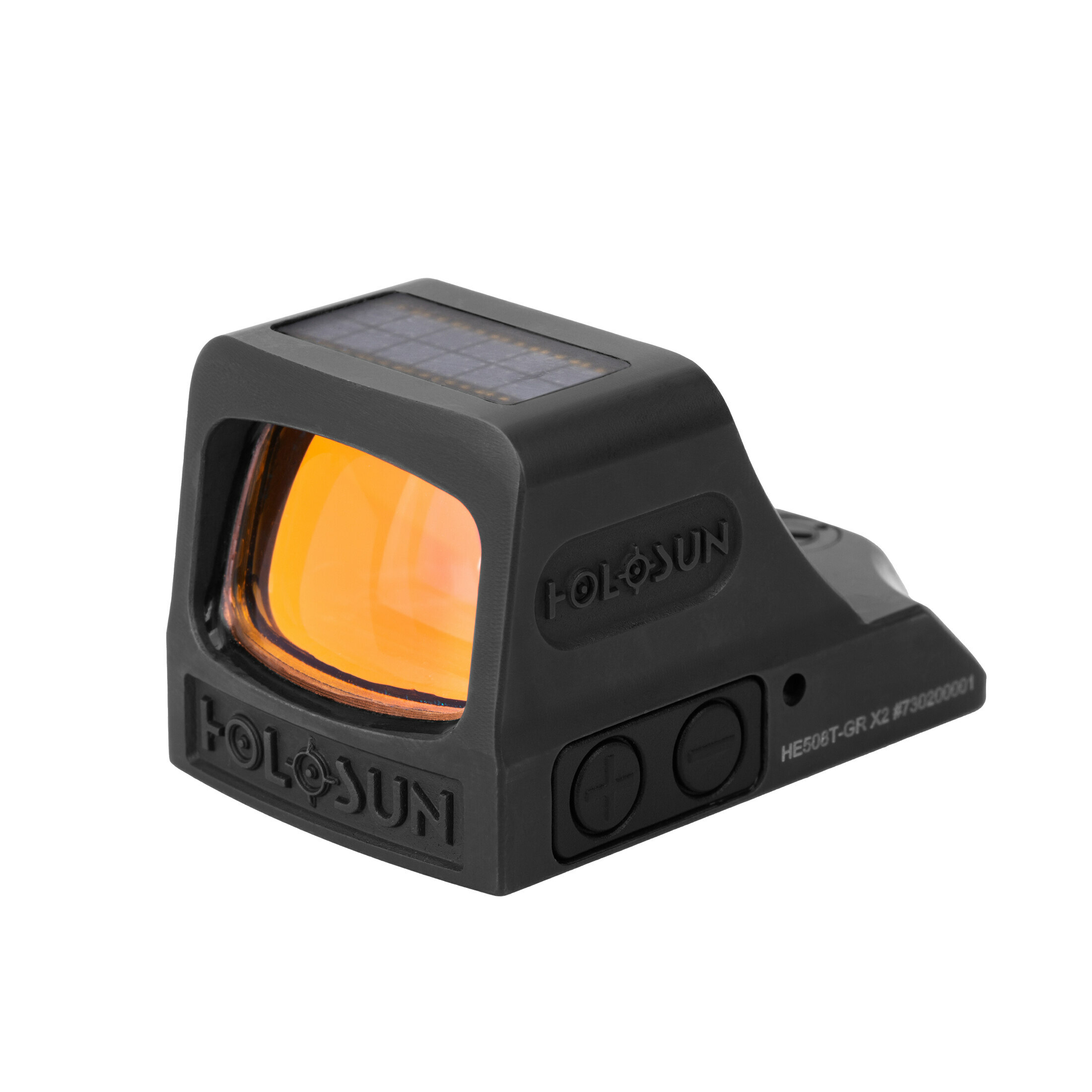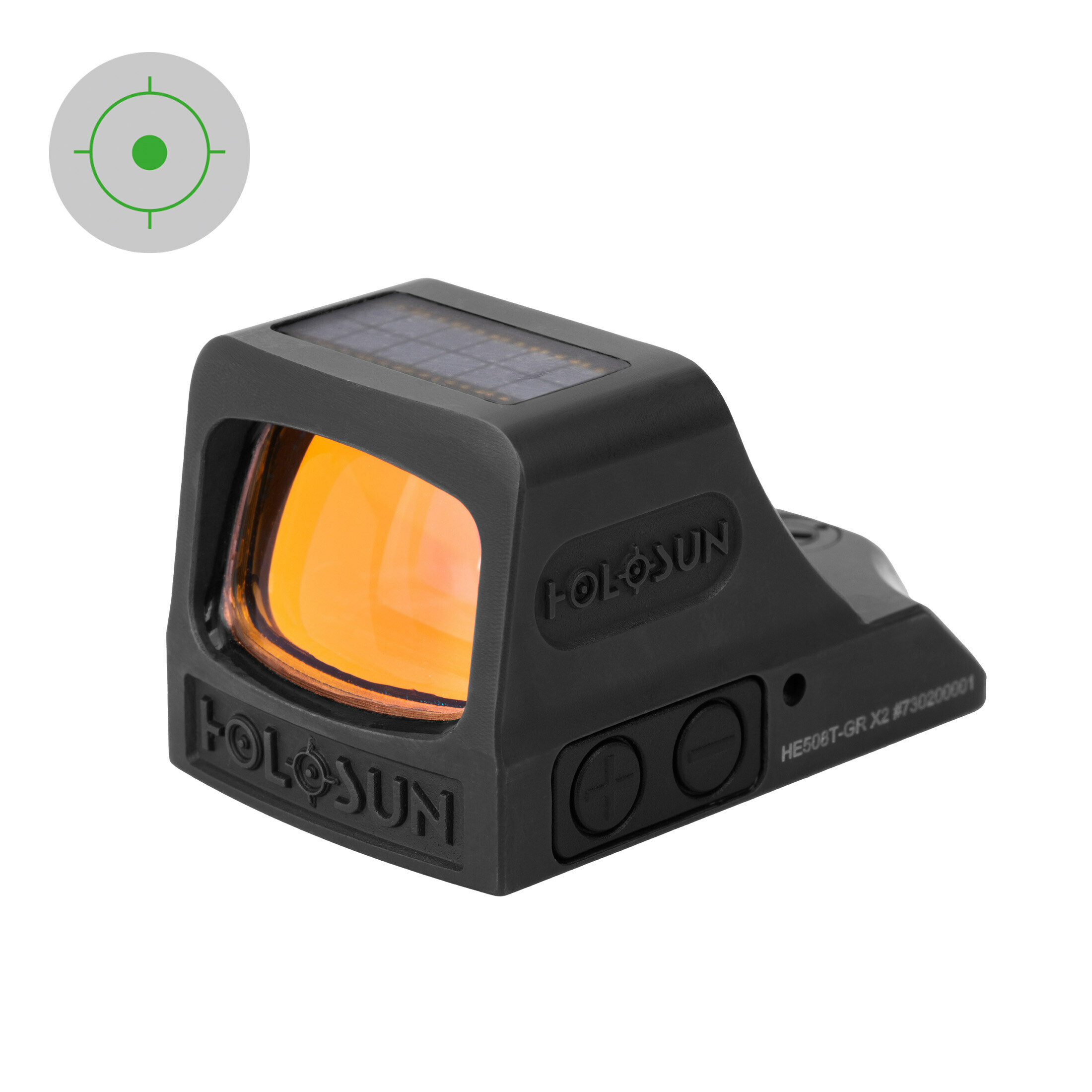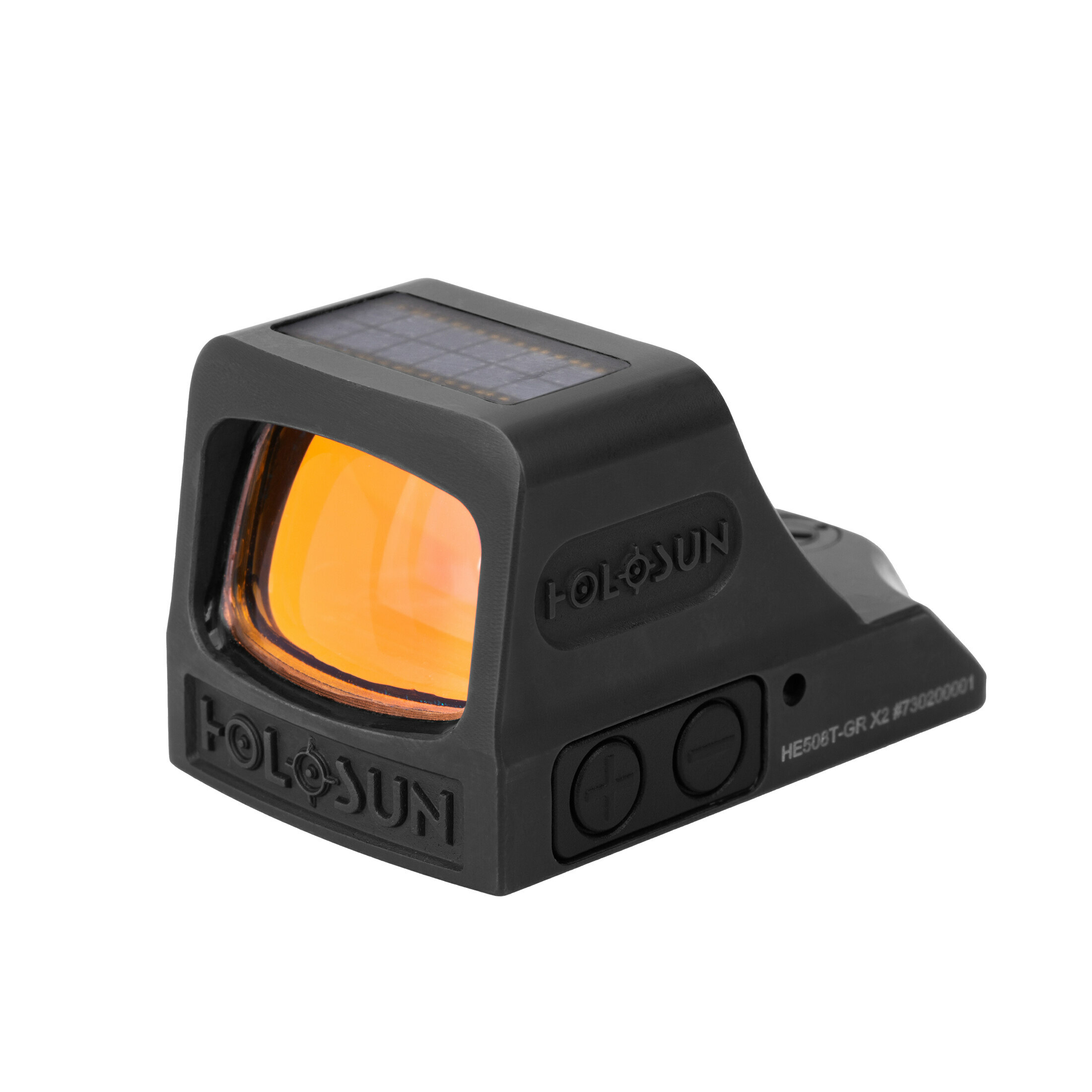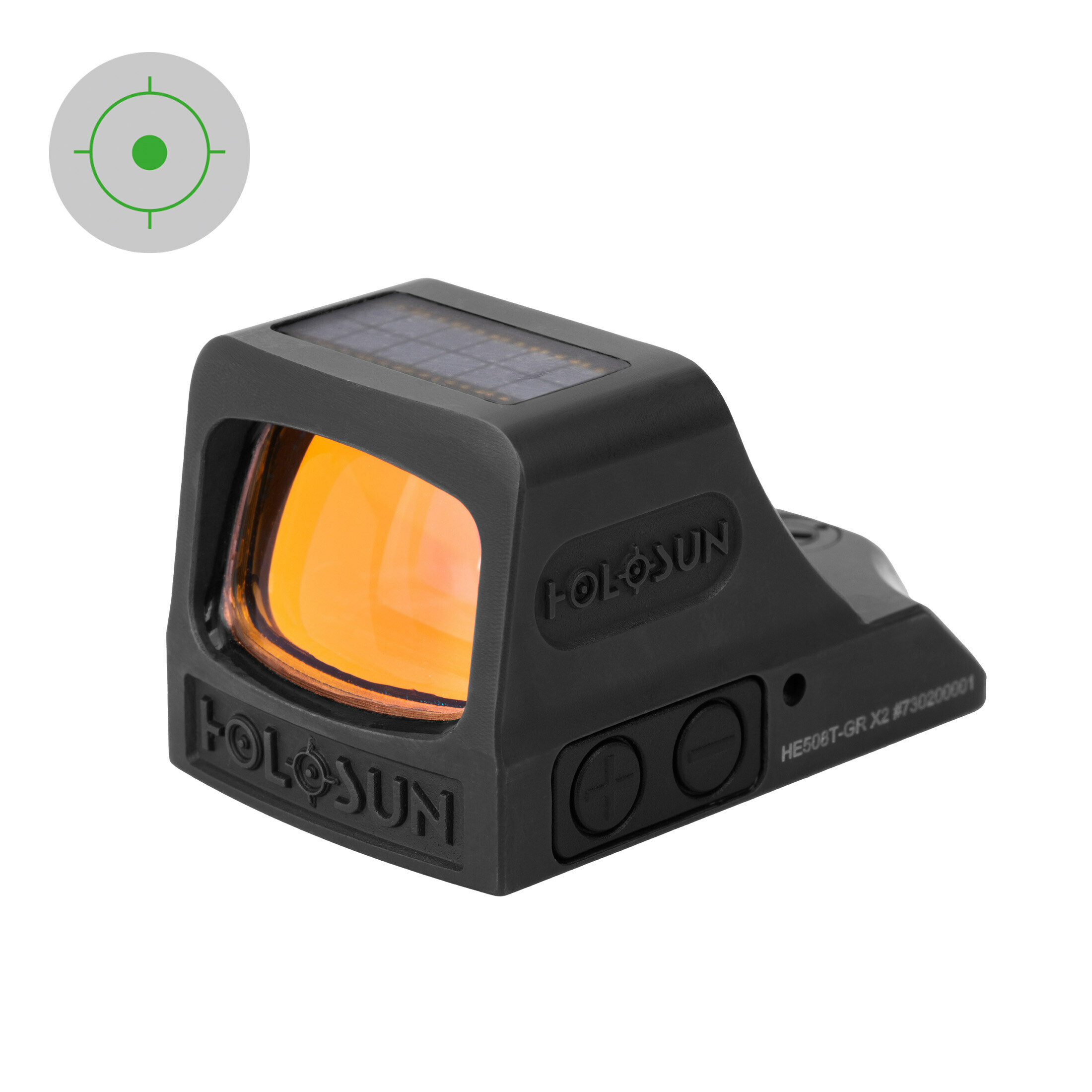 €499.90*
%
€671.98*
 MSRP (25.61% saved)
Available, Delivery time 1-2 days
Product information "Holosun Dot Sight ELITE HE508T-GR-X2"
This open ELITE reflex sight offers a multi reticle system with switchable reticles (2MOA/32MOA), an efficient solar panel with automatic brightness control, a innoative lock mode and a durable titanium housing. It's ideal for pistols/short weapons and 15m drop plate shooting (shotgun).
With our reflex sights you get a military-grade quality at an unbeatable price-performance ratio - without any compromises. They allow to focus your target with both eyes open. Thanks to this the sights are ideal for hunters, sports marksmen, authorities, and airsofter. Besides the multi reticle system (500 line) and the solar models (C-line) all optics offer an intelligent Shake Awake™ technology for an extraordinary long operating life, a parallax-free performance, a tilted front lens (micros, tubes) and 12 brightness levels for manual brightness control. Our sights can also easily be combined with aiming lasers and night vision devices.
The X2 series adds an innovative Lock Mode to the existing Auto and Manual Mode functions (Only Solar Failsafe models have Auto Mode). Lock Mode will lockout the buttons preventing inadvertent setting changes.
In contrast to the usual 65 MOA circles, the 32 MOA circle of the HE508T happens to be the same size as the diameter of a steel falling plate in the BDS falling-disc practice with the shotgun at a 15m distance. This results in a sight image that can be recognized very quickly and therefore has extremely short split times with this practice.
Battery BATT-CR1632
Protection class IP 67
Housing Color black
Small size with enormous toughness. Perfect for hunting, sport shooting and airsoft. Premium sights of military standard to an unbeatable value for money.
Footprint: Trijicon RMR
Changeable reticle: 2OA dot and 32MOA circle dot
Solar operation: efficient energy supply in daylight in combination with battery operation for inadequate lighting conditions.
Long service life: ultra-efficient LED Technology, Shake Awake function and automatic Brightness control allow up to 50,000 operating hours.
With an innovative lock mode (prevents accidental changes to the settings)
delivery content
Holosun HE508T-GR-X2 Lens Cloth T10 Torx wrench Battery tool 2x CR1632 battery Manual Enclosed note on optics Enclosed note on the reticle Guarantee brochure
Main Data
EAN: 4055132015299
Warranty: 3 years
customs tarif number: 90131090
Technical Parameters
Operating Temperature: -10°C - 50 °C
Storage Temperature: -40°C - 70 °C
Electrical Parameters
Operating Voltage: 3 V DC
Mechanical Parameters
Size: 45x29x29 mm
Material: Titanium
Housing Color: black
Weight: 57 g
Protection Class: IP 67
Shop+Web
delivery content: Holosun HE508T-GR-X2 Lens Cloth T10 Torx wrench Battery tool 2x CR1632 battery Manual Enclosed note on optics Enclosed note on the reticle Guarantee brochure
Holosun
Style: Open reflex
Reticle adjustment: Eingebettete X/Y Absehenverstellung
Mounting type: Torx
High riser mount: no
Battery compartement: Seitlich
Lens size: 16x23 mm
Magnification: 1x
Solar cell: yes
Automatic brightness adjustment: yes
Shake Awake - Function: yes
Memory function: yes
Battery lifetime: 50000 h
Surface finish: Titanium
W&E Range: ± 50 MOA
Vibration strength: 5000 G
Flip cap type: no
Killflash: no
Light sources: LED
Reticle color: grün

HE508T-GR-X2 auf Amazon kaufen