Discover the high quality red dot optics from HOLOSUN® CLASSIC and ELITE in
our online shop and order your favorite model today. Free shipping in the EU!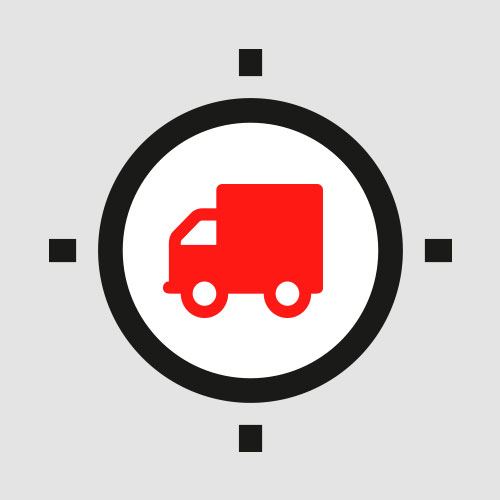 Free shipping
Ab einem Warenwert von 50 Euro können Sie aus ganz Europa kostenfrei in unserem HOLOSUN® Online-Shop bestellen. Und 14 Tage lang kostenfrei zurücksenden – so einfach wie bei Amazon.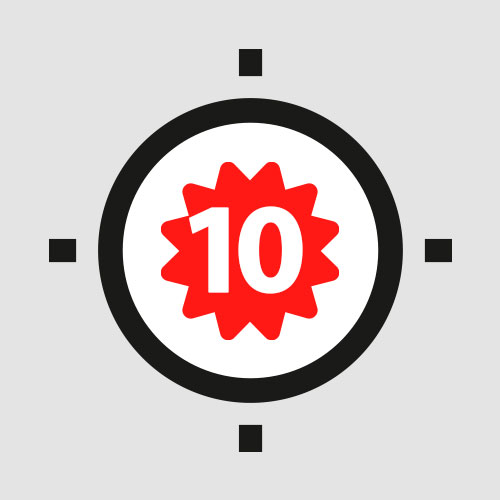 Up to ten years of warranty
Je nach Modell/Produktserie gewähren wir auf HOLOSUN® Reflexvisiere und ihre Bauteile bis zu zehn Jahre Garantie. Mehr Details finden Sie in unseren Garantiebedingungen.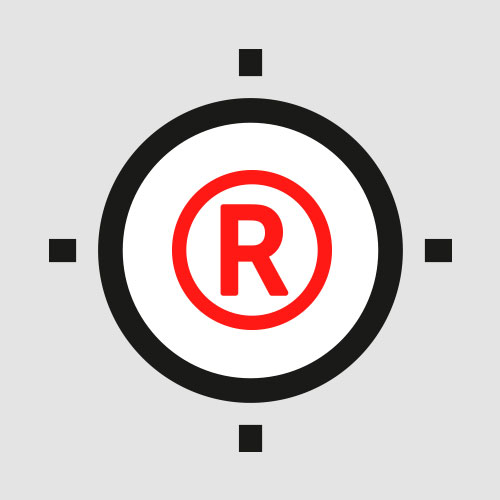 Order now at the official european distributor
Denn als offizieller Generalimporteur für die EU können wir Preise, Leistungen und verlängerten Garantien direkt an Sie weitergeben: z.B. 3 Jahre statt einem Jahr Garantie und einem kostenlosen Versand in der kompletten EU.
Wechselbare Absehen bei CLASSIC, ELITE und ACSS®
Bei der 5er Reihe von HOLOSUN® – ganz egal, ob Classic oder Elite – können Sie zwischen einem 2MOA Rotpunkt, 65MOA/32MOA Kreispunkt oder einem kombinierten Kreispunktabsehen umschalten. Beim 503G-ACSS® ebenso.
Solarzelle und automatische Helligkeitsregulierung
Mit ultra-effizientem LED-Absehen, Solarzelle und automatischer Helligkeitsregelung schont die Batterie und ermöglicht je nach Modell eine Betriebszeit von zu 100.000 Stunden.
Jetzt auch in FDE erhältlich
Viele unserer Classic und Elite Modelle gibt es jetzt sogar neben schwarzem Gehäuse auch in der Farbe Flat Dark Earth (FDE). Stöbern Sie gern!
ELITE: Wechselbare
grüne Absehen
Die HOLOSUN® Visiere sind je nach Modell nun mit einem grünen, wechselbaren Absehen erhältlich (wahlweise auch mit rotem Absehen).
ELITE: Noch robustere Gehäuse
Die neuen Gehäuse aus Hartaluminium oder Titan halten wirklich den härtesten Bedingungen statt.
ELITE: Breite Produktpalette
HOLOSUN® stellt zum ersten Mal auch Visiere mit ACSS-Absehen (Primary Arms), Magnifier und Scopes vor.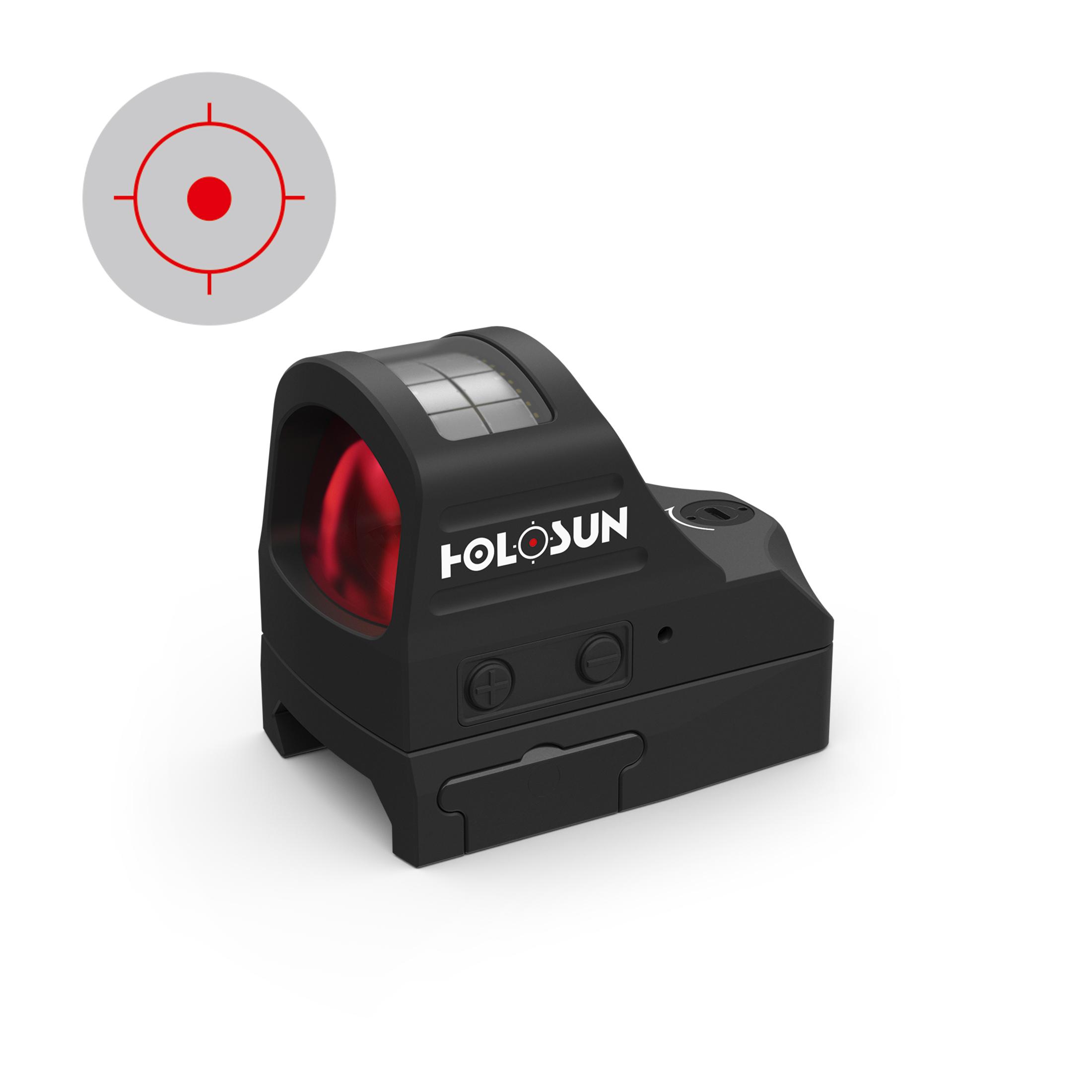 Holosun CLASSIC HS507C
This open reflex sight (mini) with red reticle offers a multi reticle system with switchable reticles, an efficient solar panel with automatic brightness control, a wide front lens, and a durable alumin housing. It's ideal for pistols/short weapons and 15m drop plate shooting (shotgun). With our reflex sights you get a military-grade quality at an unbeatable price-performance ratio - without any compromises. They allow to focus your target with both eyes open. Thanks to this the sights are ideal for hunters, sports marksmen, authorities, and airsofter. Besides the multi reticle system (500 line) and the solar models (C-line) all optics offer an intelligent Shake Awake™ technology for an extraordinary long operating life, a parallax-free performance, a bevelled front lens (micros, tubes) and 12 brightness levels for manual brightness control. Our sights can also easily be combined with aiming lasers and night vision devices. Small size with enormous toughness. Perfect for hunting, sport shooting and airsoft. Premium sights of military standard to an unbeatable value for money. Changeable reticle: With the 500er series of HOLOSUN® you are fully flexible and can choose between a 2MOA point, 65MOA circle or a combined reticle (circle point). Solar operation: efficient energy supply in daylight in combination with battery operation for inadequate lighting conditions. Long service life: ultra-efficient LED Technology, Shake Awake function and automatic Brightness control allow up to 50,000 operating hours. Always ready for use: with state-of-the-art technology, Shock-proof construction and resistant coating designed for the toughest conditions. Main Data EAN: 4260427131060 customs tarif number: 90131090 Technical Parameters Operating Temperature: -10°C - 50 °C Storage Temperature: -40°C - 70 °C Electrical Parameters Operating Voltage: 3 V DC Battery: CR2032 3V Lithium Knopfzelle Mechanical Parameters Material: 7075 Aluminium Housing Color: black Weight: 75 g Protection Class: IP67 Holosun Reticle type: 2MOA Red dot/32 MOA Ring Reticle switchable: yes Style: Open reflex Reticle adjustment: Eingebettete X/Y Absehenverstellung Mounting type: Torx High riser mount: no Battery compartement: Unterseite Lens size: 16x23 mm Magnification: 1x Solar cell: yes Automatic brightness adjustment: yes Shake Awake - Function: yes Memory function: yes Battery lifetime: 20000 h Surface finish: Hard anodized W&E Range: ±50 MOA Vibration strength: 1000 G Flip cap type: no Killflash: no Light sources: LED Reticle color: rot HS507C auf Amazon kaufen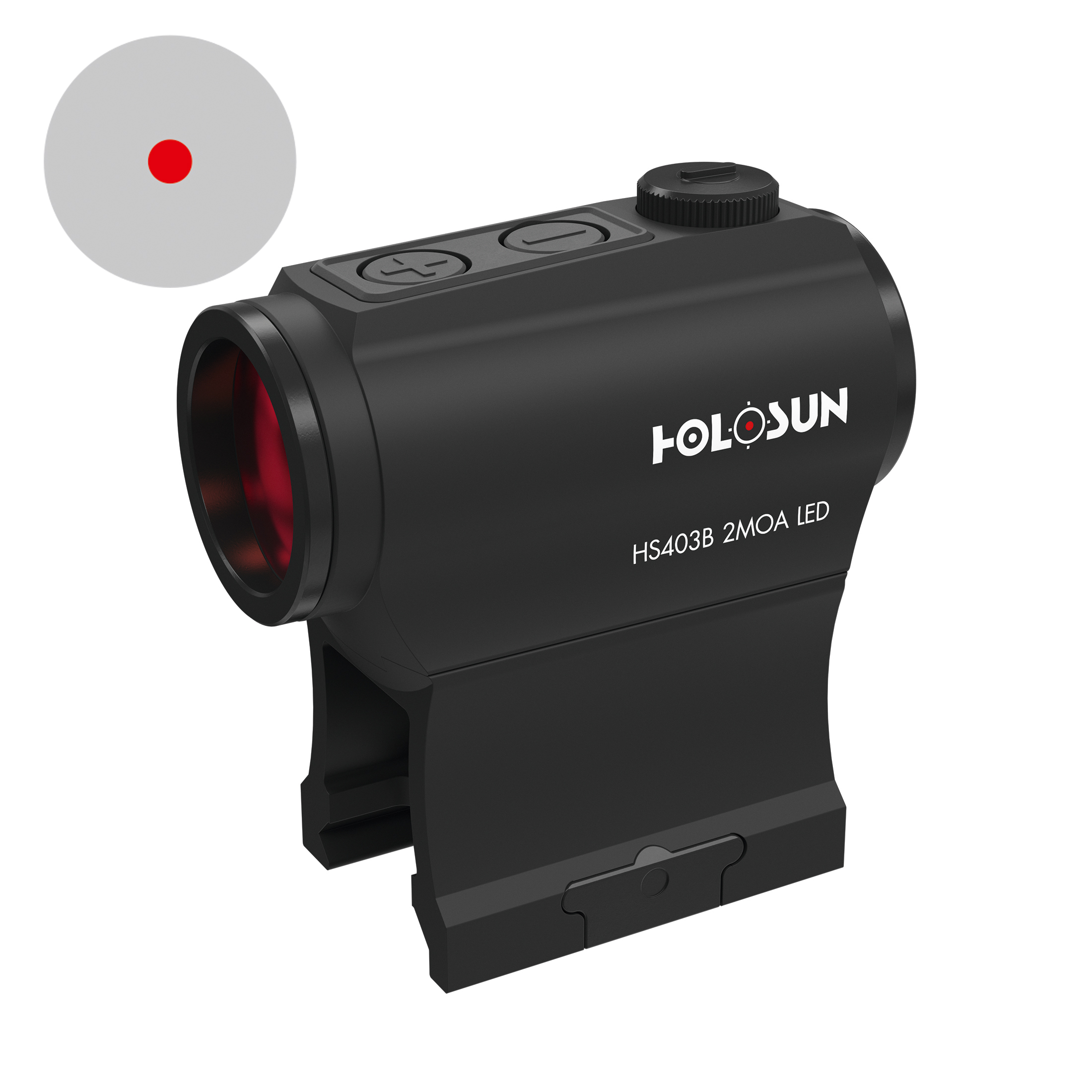 Holosun CLASSIC HS403B
This micro reflex sight with red reticle offers an intelligent Shake Awake™ technology, a long operating life, a high riser mount, and a durable alumin housing at small weight. With our reflex sights you get a military-grade quality at an unbeatable price-performance ratio - without any compromises. They allow to focus your target with both eyes open. Thanks to this the sights are ideal for hunters, sports marksmen, authorities, and airsofter. Besides the multi reticle system (500 line) and the solar models (C-line) all optics offer an intelligent Shake Awake™ technology for an extraordinary long operating life, a parallax-free performance, a bevelled front lens (micros, tubes) and 12 brightness levels for manual brightness control. Our sights can also easily be combined with aiming lasers and night vision devices. Perfect for hunting, sport shooting and airsoft. 2MOA red dot with 12 brightness settings and side battery compartment with 2 screws. Long service life: ultra-efficient LED Technology, Shake Awake function and automatic Brightness control allow up to 50,000 operating hours. Premium sights of military standard to an unbeatable value for money. Always ready for use: with state-of-the-art technology, Shock-proof construction and resistant coating designed for the toughest conditions. Main Data EAN: 4260427130735 customs tarif number: 90131090 Technical Parameters Operating Temperature: -30°C - 60 °C Storage Temperature: -40°C - 70 °C Electrical Parameters Operating Voltage: 3 V DC Battery: CR2032 3V Lithium Knopfzelle Mechanical Parameters Size: 30x63x37 mm Material: aluminium Housing Color: black Weight: 125 g Protection Class: IP67 Holosun Reticle type: 2MOA Red dot Reticle switchable: no Style: Micro Reticle adjustment: Aufgesetzte X/Y Absehenverstellung Mounting type: Torx High riser mount: yes Battery compartement: Einschub seitlich Lens size: 20 mm Magnification: 1x Solar cell: no Automatic brightness adjustment: no Shake Awake - Function: yes Memory function: yes Battery lifetime: 50000 h Surface finish: MAO W&E Range: ±50 MOA Vibration strength: 1000 G Flip cap type: no Killflash: no Light sources: LED Reticle color: rot HS403B auf Amazon kaufen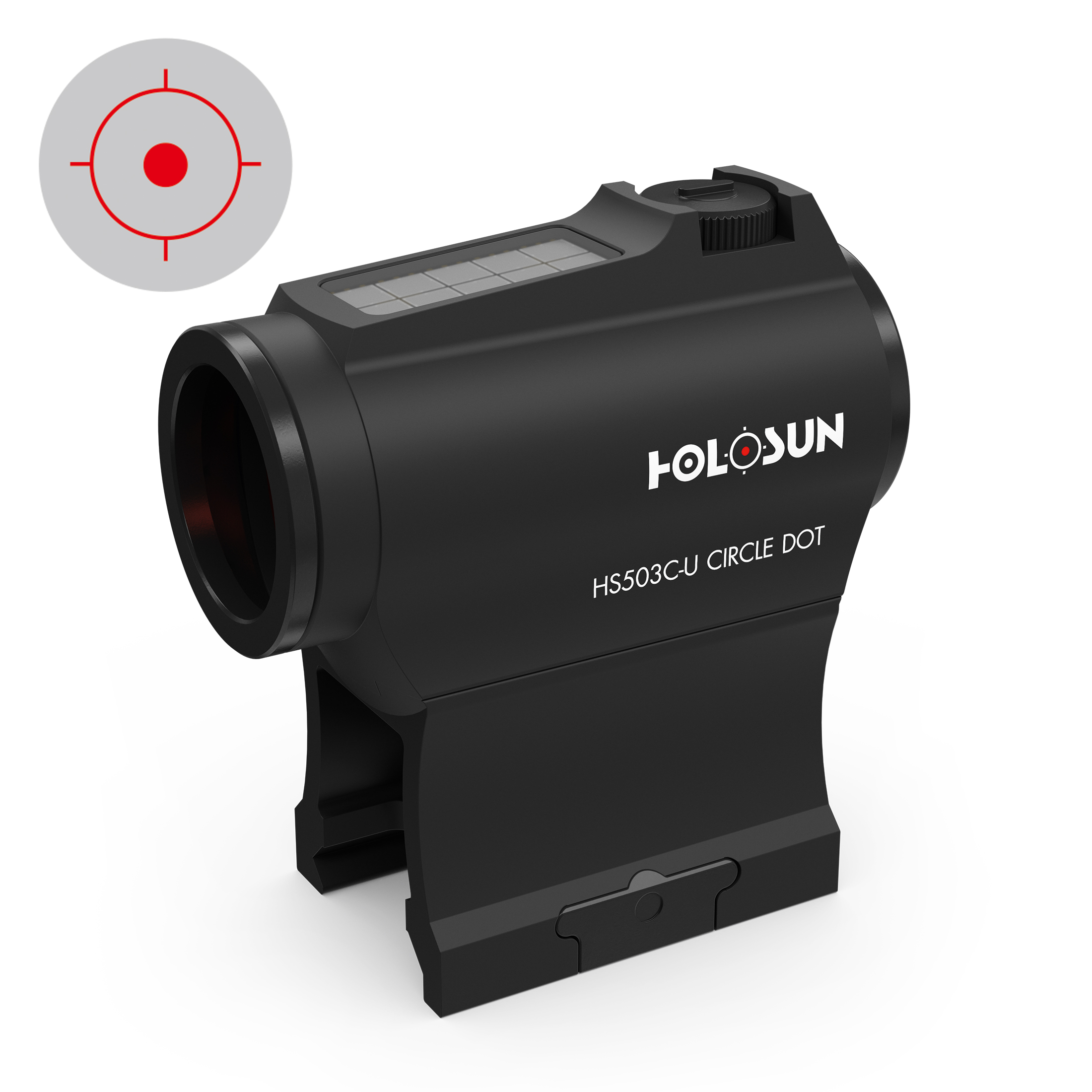 Holosun CLASSIC HS503C-U-BLACK
This micro reflex sight with red reticle offers a multi reticle system with switchable reticles, an efficient solar panel with automatic brightness control, a high riser mount, and a durable alumin housing at small weight. With our reflex sights you get a military-grade quality at an unbeatable price-performance ratio - without any compromises. They allow to focus your target with both eyes open. Thanks to this the sights are ideal for hunters, sports marksmen, authorities, and airsofter. Besides the multi reticle system (500 line) and the solar models (C-line) all optics offer an intelligent Shake Awake™ technology for an extraordinary long operating life, a parallax-free performance, a bevelled front lens (micros, tubes) and 12 brightness levels for manual brightness control. Our sights can also easily be combined with aiming lasers and night vision devices. Perfect for hunting, sport shooting and airsoft. Premium sights of military standard to an unbeatable value for money. Changeable reticle: With the 500er series of HOLOSUN® you are fully flexible and can choose between a 2MOA point, 65MOA circle point reticle. Solar operation: efficient energy supply in daylight in combination with battery operation for inadequate lighting conditions. Long service life: ultra-efficient LED Technology, Shake Awake function and automatic Brightness control allow up to 50,000 operating hours. Always ready for use: with state-of-the-art technology, Shock-proof construction and resistant coating designed for the toughest conditions. Main Data EAN: 4260427130469 customs tarif number: 90131090 Technical Parameters Operating Temperature: -30°C - 60 °C Storage Temperature: -40°C - 70 °C Electrical Parameters Operating Voltage: 3 V DC Battery: CR2032 3V Lithium Knopfzelle Mechanical Parameters Size: 30x63x37 mm Material: aluminium Housing Color: black Weight: 98 g Protection Class: IP67 Holosun Reticle type: 2MOA Red dot/65 MOA Ring Reticle switchable: yes Style: Micro Reticle adjustment: Eingebettete X/Y Absehenverstellung Mounting type: Torx Battery compartement: Einschub seitlich Lens size: 20 mm Magnification: 1x Solar cell: yes Automatic brightness adjustment: yes Shake Awake - Function: yes Memory function: yes Battery lifetime: 20000 h Surface finish: MAO W&E Range: ±50 MOA Vibration strength: 1000 G Flip cap type: no Killflash: no Light sources: LED Reticle color: rot HS503C-U-BLACK auf Amazon kaufen